Three police officers have been found guilty of assaulting a disability pensioner on his front lawn after they attended his home for a welfare check.
Senior constables Brad McLeod, John Edney and Florian Hilgart were found guilty on Friday of a combined six charges over their use of force against the pensioner, John, outside his Preston home on September 19, 2017.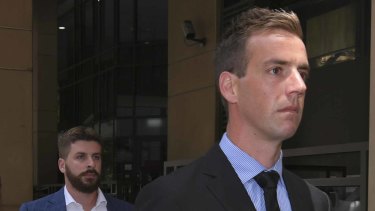 The trio and three other officers went to John's home after his psychologist called triple zero due to concerns about his mental health.
The officers ended up pinning John down on the lawn and restraining him. As the 36-year-old lay on the ground, he was struck to the leg with an extendable baton, punched in the stomach, had his head stood on and capsicum spray used on him from close range. He then had water blasted in his face from a high-pressure hose.
On Friday John said the three guilty officers had beaten, humiliated and traumatised him when he should have been treated with dignity because of his mental health problems. At the time he was withdrawing from opioids he took for chronic back pain.
"They treated me like a dog at the weakest moment of my life," John said in a victim impact statement.
John said he had since been diagnosed with post-traumatic stress disorder and anxiety, the sight of any police panicked him, and he now slept during the day so he could keep watch on his house at night.
Magistrate Cathy Lamble found John came outside with his fists clenched and was verbally aggressive and threatening, and that police were justified in arresting him.
But it was the police conduct once John was restrained on the ground, Ms Lamble found, that was an unjustified and disproportionate use of force.
McLeod and Edney told a contested hearing in January they feared John wanted to "suicide by cop". But Ms Lamble instead found that based on their past dealings with him the officers considered John to be "mostly talk" and their weight of numbers quickly eliminated any risk he posed.
McLeod, 35, was found guilty of three charges of unlawful assault over his use of capsicum spray from close range, for punching John in the stomach and then directing Hilgart to use the hose on the pensioner.
After using the capsicum spray, McLeod told John, "Did you like that? Did you like that? Smells good, doesn't it?"
McLeod's use of force was "malicious", Ms Lamble found, and a response to John earlier refusing to come outside and then moving at the officer with arms up.
"He was paying out on [John] for his resistance to police demands," she said of McLeod.
Edney, 30, was found guilty of assault with a weapon and unlawful assault. He struck John six times to the left leg with a baton while the other officers had him pinned, and also stood on the pensioner's head.
After John was handcuffed and sitting on the grass, Hilgart sprayed the hose in John's face. Ms Lamble found the first two sprays were justified but the third wasn't, as McLeod directed Hilgart to use the hose while the former took a photograph with his mobile phone.
Hilgart, 42, was found guilty of unlawful assault.
The three officers have been suspended from police duties since April 2018, and now face losing their jobs. Prosecutors are not pushing for jail terms. Victoria Police has been contacted for comment.
The officers' lawyers called on Ms Lamble to consider good behaviour penalties as their careers were at risk if convictions were recorded. McLeod's lawyer said his client maintained his innocence.
Prosecutor Diana Manova said convictions were warranted for crimes against a vulnerable man that deserved denunciation and had the potential to diminish public trust in the police.
She called for McLeod to receive a heavier penalty for his more serious offending, the malice behind it and his lack of remorse.
Victoria's Independent Broad-based Anti-corruption Commission investigated the assault after The Age published CCTV footage of the incident. The footage recorded by John's CCTV cameras formed the basis for the magistrate's verdicts, as she considered the pensioner was not a witness of truth.
John previously sued police and received a payout last year.
Hilgart is also awaiting trial on unrelated charges he assaulted a 16-year-old boy while on duty in 2018.
Ms Lamble delivered her verdicts from Heidelberg Magistrates Court as the officers watched videolinks from their lawyers' offices. They remain on bail and will be sentenced next week.