By Adam Cooper
One of two police officers who hit an "unhinged" man with a torch, kicked him and left him with a cracked rib after being called out to a domestic dispute has been found guilty of assault.
But the officer's colleague, who was with him at the time of the arrest, has been acquitted.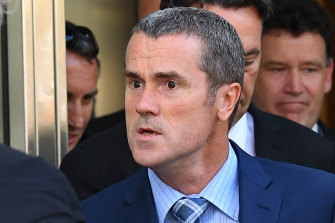 A County Court jury on Wednesday found Senior Constable Ross Fowler guilty of recklessly causing injury but not guilty of the more serious charge of intentionally causing injury, over an assault at a Frankston home in February 2016.
Fowler and colleague Travis Woolnough were called to a domestic dispute where they encountered Brian Jackson and were told he had been drinking.
The jury on Wednesday acquitted Senior Constable Woolnough of charges of intentionally causing injury, recklessly causing injury and common assault. He wept after the jury handed down its verdict.
Prosecutors argued the two officers struck Mr Jackson with a torch and a police baton and kicked him, and their actions were against the law as the man had been forced to the ground and restrained.
The two officers had acted together and were assisting and encouraging each other, prosecutors argued.
Mr Jackson suffered a fractured rib, bruising and multiple scratches and cuts, the trial was told.
Lawyers for both officers argued the pair's actions were justified and they acted lawfully after being called to deal with a man who was ''unhinged'', possibly alcohol- and drug-affected and agitated.
The pair did what they did to protect themselves and the community, the defence lawyers argued, and were trying to prevent Mr Jackson fleeing.
Judge Trevor Wraight extended Fowler's bail for him to return to court for a pre-sentence hearing at a later date.
Senior Constable Woolnough separately left court with supporters.
RELATED ARTICLE
COURTS
Police officers accused of bashing man with torch
Both officers are expected to face police disciplinary hearings.
Victoria Police said it was aware of the verdicts but could not comment as the court process was not finalised.
Fowler could yet appeal against his guilty verdict.
The two officers were transferred to other duties in December 2018.
---